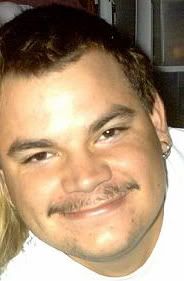 Today makes it four years since you left this world. It has not been easy. I have missed you everyday. You were taken from us far too soon when things were just falling into place in your life. You had a Fiancé you loved more then ever. You were about to be promoted at your job. You were going back to get your GED. You were truly happy with life.

I still question God as to why he took you that early morning in March 4 years ago. I know I will never get an answer as to why. I can only think that you were better off as an Angel to watch over us then to grace us with your presence.

I think back to that day I found out. Justin had just left to go back to work after his lunch break. A knock came at the door I went to the door saying what you need to get to work. I opened the door and he was not standing there. It was a police officer. He asked for me. I asked him what he wanted. It was April Fools day so you never know. Someone could have been playing a trick on me. He said your brother has died in a car accident. I looked at him and asked which one I have three. He said Bryan. I asked him if this was a joke. He said Sorry, but this is not a joke. He told me that Debbie wanted me to call her as soon as I could. So I got dressed and walked up to the Gas Station by my apartment. I called her. It wasn't until I called Justin did I break down. It had hit me as I was calling him. I was about to tell him you were gone and that he would never get the chance to meet you. I am sure you two would have gotten along. You both like the same things. He asked where I was and told me to stay there. I melted into his arms when he got to me. I did not stop crying until we got back to the apartment to pack and head to Debbie's.
Kristin drove us up to Mom's house for the funeral. We got lost. *Laughs to myself* We called them to come find us and when they did. We all broke down. Dad and I hug for a very long time. They meet Justin. He kind of looks like you. So, I was not sure how they were going to take that. We followed them back to the house where they showed me pictures and the articles of your accident and the Obituaries. That night when everyone went to bed Justin and I stay up for a little bit. I was looking at your picture and went into some kind of trace. You were moving your lips saying I love you and shaking your head No. I was not sure what you meant by that. Justin said he was shaking me and trying to talk to me but I was not responding. After I came too he asked me if everything was ok and I told him what happened. We went to bed. The day of your funeral was a hard day. When I saw that dad had put on his hazard light on the top of his work truck in honor of you I cried. It was hard when I saw you in your casket you looked so peaceful. You hadn't changed at all. I said my goodbyes and when the service stared I was gone. I was crying and just really upset. I saw that you put out the candle to the right of your casket. Mom got up and read something she wrote and the song by Vince Gil was played. Everyone cried. We all missed you so much. We still do. On the way back to the house the limo driver almost got into an accident with all us kids in the back. Crazy driver.
I just hope you knew that I loved you so much. We may have not got along all that well when you were a live, but I loved you and looked up to you. You were and always will be my older brother.
I will always think of you when I smell Black and Mild Cigars; See a Ford Mustang or a 1994 Mitsubishi Eclipse and Dragons. The things you loved. They all remind me of you as well as Mountain Dew.
I had planned on getting your in Memory tattoo today, but I can not. I am still not sure what I want. I know where I want it. =) I will most likely have a friend draw the tattoo. Not sure who. I had asked a co-worker, but he did not come through. I know I want butterflies in it, because you have sent me like two or three so maybe I will get that many in my tattoo.
I will NEVER forget you. I love you so much.
The One You Love
By: Me
The one you love may die
They may live a longer life than you
May lead down a different path
But you have to remember
That you will always have them
In you heart and by your side
Just keep them close
And remember all the good times
And even some of the bad
But most of all, remember how much
You loved each other
They will remember you
And stay close to you
TO help you through life's journeys
They will be waiting for you
In Heaven